Planting a brighter future: how a mental health facility uses gardening as a therapeutic tool.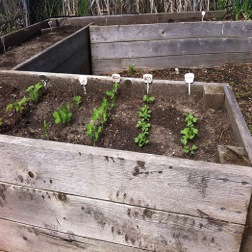 Planting a brighter future from Megan Pauly on Vimeo.
Turning Point Mental Health facility has been using therapeutic gardening as a coping mechanism for its clients for years.  Now, after receiving a $52,000 grant from the Rice Foundation it will be expanding the garden area to cover a quarter of an acre of land on its parking lot.
Corrie Callaghan, a therapist at Turning Point, said that the garden is currently used to grow food and flower, and that it has been a great tool for her clients. It helps them to get out of the urbanized areas they're used to and relax in a new surrounding.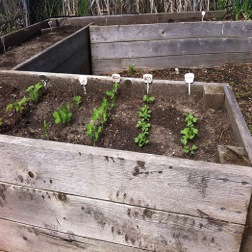 "There's something that's very spiritual and elemental about being in nature and being able to commune with that. Just having the quiet and being separated from the urban or suburban environment.  It can be a break for people," said Corrie Callaghan. Callaghan is a compliance officer and therapist at Turning Point in Skokie.
Turning Point is an outpatient mental health facility that has served more than 42 communities in and around the Chicago area for almost half a century. It provides individual and group care for patients suffering from anything from situational stressors to severe mental illness.
One of the ways the therapists at Turning Point help their patients is through therapeutic gardening. The facility currently has a 1000 square foot garden in the corner of their parking lot where patients grow vegetables and flowers for their cooking and art classes.
"It's a great project because it brings people together," Callaghan said.
"You're working as a team. You can't really take care of a garden like that on your own, so you're working on your social skills, and relationship skills with people, so there's a lot of different way that it can help."
Ann Raney, Turning Point CEO and therapist, said that the lessons clients learn from working in the garden go far beyond what is learned in regular therapy.
"Getting to work outside and getting to work with your hands. Getting a sense of ownership over that kind of project," Raney said. "I also think there's some really important elements that have to do with strategies, planning, budgeting, group decisions about what we will be planning and what we will be doing with the results of that."
The therapists use the garden for group classes, but also during one-on-one sessions. Callaghan said that sometimes being outside can be conducive to a more therapeutic environment.
"There's a lot of research that being in nature and being involved in earth is very therapeutic. Intuitively, being in nature feels good. People feel better when they can experience that," Callaghan said.
"And if you can't always get away and leave the city and go to the woods and spend time in nature then just going to a park or something really little like that can still be helpful."
"Therapeutically, it's calming. Sun really helps to lift the mood, disorders and depression," said Mary Laura Jones, Turning Point development coordinator. "Being outdoors helps with paranoia because the built-in environment creates a different dynamic."
The grant from the Rice Foundation, a medical relief foundation out of Grand Prairie, Texas, will allow the facility to begin work as soon as possible. The hope is to begin breaking ground on the new garden by the end of the year.  There is no timetable for how long the entire project will take.
"I'm sure it will take us more than one season to establish it because it's much more space than we envisioned so it might be a phase kind of thing," said Marsha Hahn, therapist and chief financial officer.
The therapists said the most important thing about the garden is making sure to get the clients input on what they want to see once the project is complete.
"They really feel a part of this place and have a sense of ownership in some ways that this is a place they like to be and this is their agency," Callaghan said.
Story was reported with student, Cara Cooper.
---