Mental Health Movement calls for Mayor Emanuel to 'heal Chicago'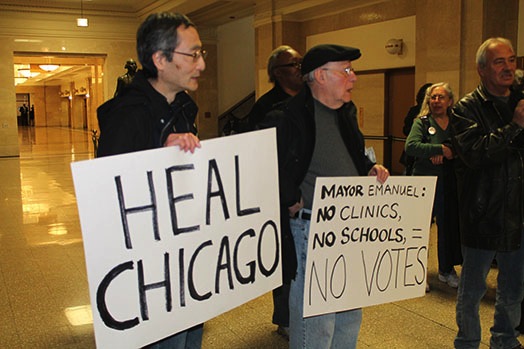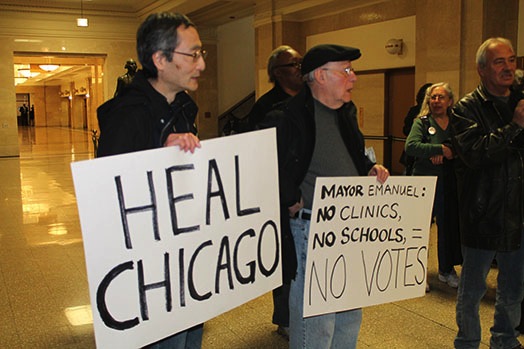 Chicago health officials defended mental health care in Chicago after demonstrators Tuesday demanded the reopening of six mental health clinics in response to their claims of poor care and destroyed lives.
The Mental Health Movement plans to continue advocating for the reopenings. However, no other rallies have been planned so far, said Mateo Ginsberg-Jaeckle, who was at the Tuesday event.
The Mental Health Movement also expressed concern that, once the Affordable Care Act is implemented, more clinic closings could follow.
"There are no current plans to change the structure or staffing levels," according to the fact sheet from the Chicago
Department of Public Health.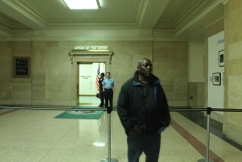 "You've got a lot of people hurting, a lot of people out on the streets," said Horace Howard at the rally at City Hall.
He said he began seeking mental health services more than two years ago after he himself became homeless, though he's not homeless now.
Howard approached Mayor Rahm Emanuel's office before 10 a.m. Tuesday, the first to arrive for the rally to reopen the six shuttered clinics.
Organized by Chicago's Mental Health Movement, the event commemorated the one-year anniversary of the closure of the city-run mental health clinics due to budget cuts. Six others are left, requiring longer commutes and longer waits for needy patients.
Howard said he's happy with the services he receives from the Greater Grand Mental Health in Cottage Grove, even though he only has access to one appointment every three months.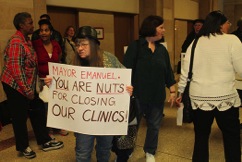 "They're beautiful people," Howard said. "But it's not beautiful for everybody."
He said he waits three months between appointments. If he misses an appointment, he's got another three-month wait.
Advocates like Howard demonstrated largely for those they feel have fallen through the cracks or suffered due to the consolidation of six centers in Rogers Park, Logan Square, Woodlawn, Auburn-Gresham, Morgan Park and Back of the Yards.
Debbie Delgado, who seeks psychological grief counseling for her and her son after the loss of another son, said she endures a long bus ride when commuting to appointments—passing three cemeteries on the way. That overwhelms her with anxiety, she said.
"I've attempted suicide this past year because I felt like a failure," Delgado said.
"Dear Mayor Rahm Emanuel, we are a city that is in desperate need of healing," N'Dana Carter read from a letter that was presented to the mayor's office during the rally.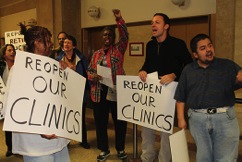 The Chicago Department of Public Health responded with a fact sheet insisting that the city's mental health services had been strengthened instead of weakened since the last year.
"Each city clinic has the capacity to serve additional clients so patients can get the care they need; 1,000 new patients can access important psychiatric care at community centers right in their neighborhoods," Brian Richardson of the Chicago Department of Public Health said in a press release.
In response to the Mental Health Movement's criticism that the Chicago Department of Public Health is no longer hiring therapists for their clients, the health department said that each clinic is currently working to fill staffing vacancies.
There has also been a decrease in the number of clients hospitalized, 180 in 2012 compared to 267 in 2011, the health department stated.
Logan Square resident Jim Rhodes attended the event Tuesday with sign in hand reading "Mayor Emanuel: No Clinics, No Schools = No Vote."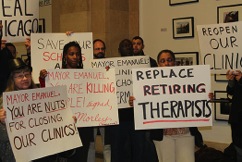 While he hasn't had to seek mental health services personally, he's seen the need in his own community, especially after the Logan Square clinic was closed.
Over the past weekend, a mentally ill individual attempted to break into his home. Rhodes eventually resorted to calling the police. Four police cars and seven policemen showed up. Rhodes was disheartened when he saw the police sergeant pull a gun on the mentally ill individual, which he said he felt was unnecessary.
"It was a perfect example of someone who has dropped between the cracks and could have gotten help but didn't," Rhodes said. "Due to the economic condition now, there are more homeless people. They're reaching out for help and there's nothing there. It's a crime, thanks to Mr. Emanuel."
---