Climate change leaves Chicago area in deep water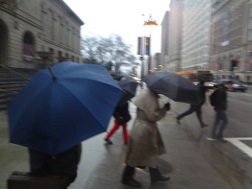 It wasn't a hurricane, but nearly five inches of rain fell in the Chicago area Thursday.
"This is a new kind of storm associated with climate change," said Tom LaPorte, spokesman for the Chicago Department of Water Management. "It's been around for five or six years. Other storms are rather local, but in this case the entire region got really walled."
Take Evanston for example. The Metropolitan Water Reclamation District of Chicago opened the Wilmette locks at 1:25 a.m., but the city of Evanston still received about 80 complaints of flooded basements and 50 complaints of alley and street flooding by 11:30 a.m.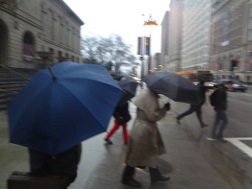 "The Deep Tunnel holds a vast quantity of water, but when it gets full, wow," Eric Palmer, community information coordinator for the city of Evanston, said. "That means they have to release it into Lake Michigan."
And the flooding hasn't been limited to just Evanston, spilling into neighboring communities.
The last storm of this magnitude to hit the Chicago area came in July 2011, when nearly seven inches of rain fell July 23, the largest single-day rainfall recorded since 1871.
These extreme flooding events highlight an underling pattern of overall wetness over the past two decades, according to Illinois State Climatologist Jim Angel.
Angel said 7.5 inches of rainfall has been used as a benchmark to characterize a "100-year storm" in the past, but said the number isn't as useful anymore, as sizeable storms occur more commonly.
"We keep getting hit over and over again," Angel said. "I suspect it's safe to call it climate change."
The trend has also been for more extreme cases of precipitation as opposed to temperature, he said.
Recognizing climate trends is one thing, but dealing with the effects of these trends is another. Angel said the flood affected him, as his flight out of O'Hare
International Airport was delayed Thursday.
"The big challenge for any big city is that we have large areas of concrete, rooftops. It's really hard for water to soak in," he said. "It seems like there's always more of a risk in an urban area."
The Metropolitan Water Reclamation District of Chicago said it would close the locks when the situation is stabilized, but it largely depends on when the rain slows down or stops. The rainfall amount can't be controlled, but water use by the public can, according to Sergio Serafino, assistant director of operations at the reclamation district.
"We're encouraging the public to minimize use of water during the rainstorm," Serafino said.
Ryan Wilson, with the Center for Neighborhood Technology in Wicker Park, was in Albany Park helping assess damage Thursday. "We're trying to get a sense for how peoples' homes are being impacted," he said. "Is it sewer backup? Is it from the river? Is this a health threat?"
When the Wilmette locks were opened in 2011, area beaches closed due to the possibility of  E. coli, a bacterium that causes diarrhea, appearing in the water, Palmer said.
Many, including Joel Brammeier, CEO of the Alliance for the Great Lakes, a nonprofit organization dedicated to the conservation and restoration of the Great Lakes, are upset that the locks have been opened at all.
"The big picture here is what you're seeing today is a symptom of the century-old infrastructure that we're still relying on here in Chicago that is in deep need of being restored," he said. "Once we finish the tunnel project and have a place to put these extreme amounts of water, then we'll have options."
The Tunnel and Reservoir Plan, however, isn't planned to be completed until 2029, 16 years from now, according to Brammeier.
"We need to be in a position in Chicago to not rely on Lake Michigan for a backwater for sewage," he said.
---